Enjoy the visit of Syracuse, Noto and the nature reserve of Vendicari
accompanied by one of our expert English-speaking guides. Syracuse, one of the most popular and important cities of the ancient history and Noto, one of the late baroque towns of the Val di Noto. Two impressive sites, which were both declared World Heritage by the UNESCO. In between, let us enchant you during our visit of the magnificent coast of Vendicari, which received the award of the "Blue Flag" due to its high quality water.
Full Day Tour (9:00am – 19:30)
(Noto, Syracuse/Ortigia and Vedicari)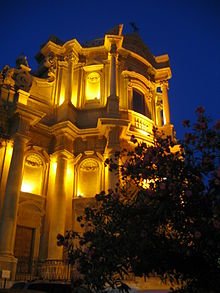 The first stop is Noto, where we will visit beautiful baroque buildings, including the Cathedral of Noto, the church San Domenico and Palazzo Villadorata. Heart of the town is the Corso Vittorio Emanuele. With the parallel running Via Cavour it locates the main attractions of the town.
In Piazza Municipio you can go up a broad staircase to get to the dome. The cathedral was completed in 1770.  A severe earthquake in 1996 destroyed the large central dome and the aisles. Restored due to original, the cathedral was officially reopened at the beginning of 2007.
Next stop is the nature reserve of Vendicari (Riserva naturale Orientata Oasi di Vendicari faunistica), where we will reach the beautiful Calamosche beach after a short walk.
Vendicari is a real paradise for birds. You can observe Flamingos, storks and cormorants here and sometimes even pond turtles.
After a refreshing swim in the crystal clear sea, it is time for
lunch at a country inn (agriturismo). Here you can enjoy a full meal of Sicilian specialties.
In the afternoon we will drive to Syracuse. 2005 the town was declared World Heritage Site by the UNESCO and is located in the south-east of Sicily between the rivers Anapo and Ciane. Cicero himself defined Syracuse as "the biggest and beautiful city among all the Greek cities". We will visit the isle of Ortigia where you can admire the Cathedral of "Saint Mary of the Immaculate Conception" erected on the ancient Greek temple of Athena. Inside the columns of the temple are still visible.
Finally the visit of Ortigia takes us to the "Fonte Aretusa", a legendary fresh water spring with a fountain.
Daily tour with competent English-speaking guide
Tours are easy and accessible to everyone
In the area range of Taormina and Catania pick up and drop-off at your hotel, camping, pension, rented house, railway station, port, etc. is included. Possibility to meet at the highway exit (if you travel with your own car)
On request we can provide child safety seat or booster seat (free)
Including 1 small bottle of water p.p.
Children under 12 years pay 10 euro less
Admission fees are not included
Full Day Tour Noto, Syracuse, Ortigia and Vedicari
Duration: 8 hours
Including typical Sicilian lunch
Prices are inclusive of taxes and insurance
FREE Cancellation until 3pm one day before the tour begin
Payment Options
Cash to
the driver
In advance by
Bank transfer
In advance by
Credit card