Etna and Taormina Tour – Etna Excursion
GO-ETNA

5/5 (2053)
With the Etna & Taormina Tour you will explore the most active volcano in Europe, off-road in a jeep as well as during your hike close to the old lava fields with your English-speaking guide. You will spend the afternoon in the enchanting Sicilian city of Taormina.
Etna and Taormina Tour: Highlights
Experience an off-road adventure with a 4x4 vehicle

Take a hike along the old and new lava flows

Equipped with helmets and flashlights you will explore a lava cave

Enjoy a typical Sicilian lunch in a picturesque setting.

Visit the famous Sicilian city – Taormina

English-speaking guide
Are you ready for the perfect mix of adventure and culture? Discover one of the world's most active volcanoes and the famous Sicilian city of Taormina with our Etna & Taormina Tour. We will pick you up at your accommodation with one of our off-road vehicles (including the popular Land Rover 110) and heading in the direction of the volcano.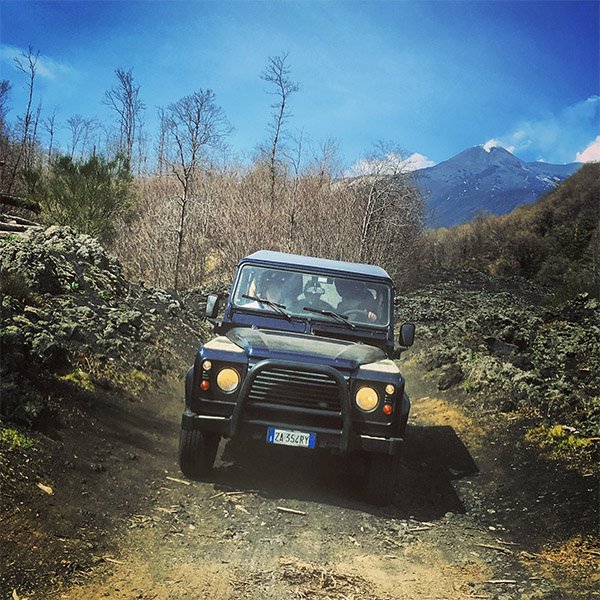 We are passing idyllic Sicilian villages and some of Sicily's most famous wine-growing regions and whilst gaining altitude, you will learn a lot about the country, the population and their culture. You will certainly remember the impressive play of colours of the black lava and the extraordinary vegetation on Mount Etna. As we pass by the lava flows of recent years, we will see centuries-old forests and we will stop at some of the most beautiful places on Mount Etna. During an easy hike of approx. 45 min. on the craters in the surrounding, you will see the unique landscape with the old and new lava.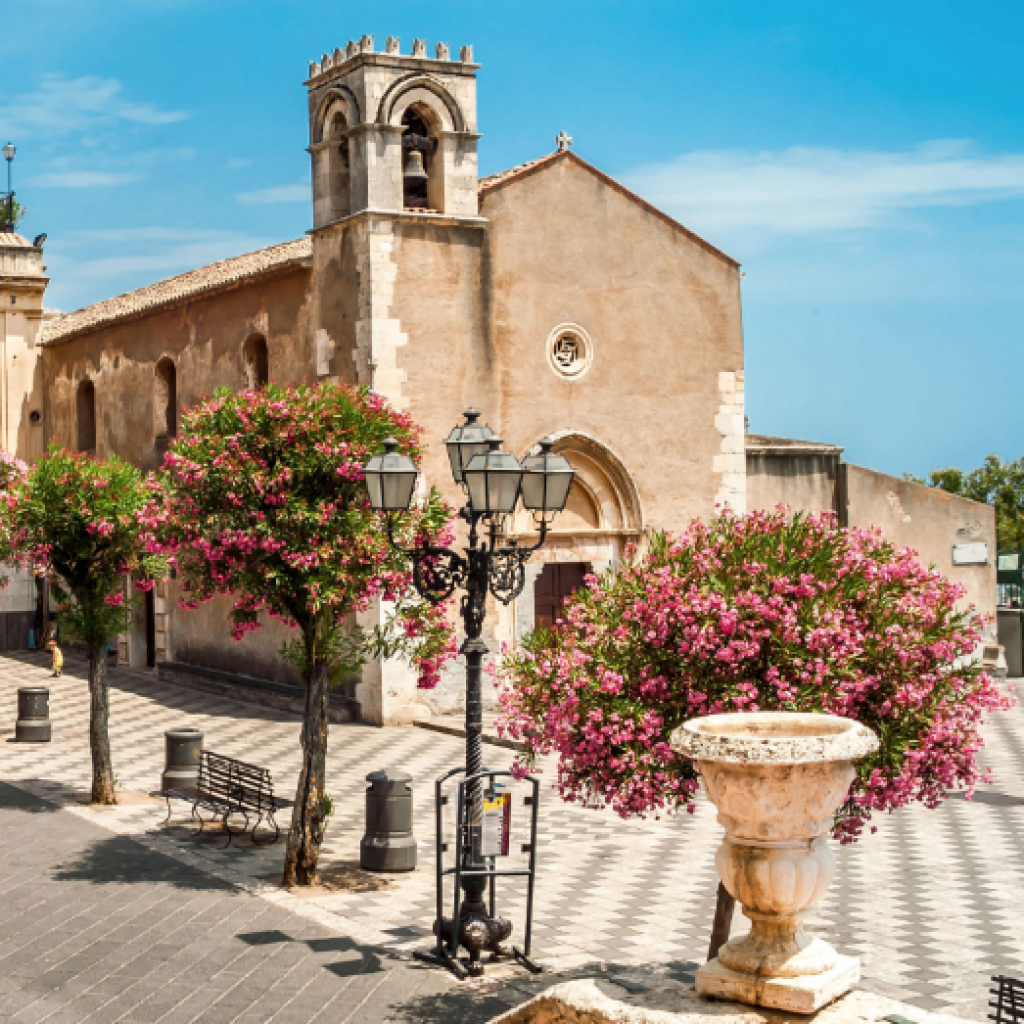 Of course, a competent English-speaking guide will accompany you during this guided trip on Mount Etna and you will learn a lot about the history of the volcano with its myths and the current situation there. You will continue the adventurous jeep tour on an off-road track through the pine forests and you will get further insight into the unique and diverse flora and fauna which inhabits the lava rocks.
Like the speleologists, you will be equipped with helmets and flashlights to explore one of the famous lava caves on foot with your guide. These caves were created by a lava flow and they still have special properties. Centuries ago, residents close to Mount Etna used these caves for the ice production.
As one of the last stops of the Jeep part we will drive to the hardened lava flows, which destroyed the local ski lift during the last big eruption.
A typical Sicilian lunch awaits you in a mountain chalet on Mount Etna. With traditional antipasti, pasta of the season and a delicious dessert, accompanied by water, Sicilian wine and a good coffee you will get to know the local cuisine.
In the afternoon we will head to Taormina. During your free walking time (unguided) of approx. 1 hour you will have time to explore the historically rich town, founded 1300 b.c. by the Sicles and later affected by the Greeks and the Romans. Here you can visit the Greek-Roman amphitheatre, the dome, the piccolo teatro Odeon, Palazzo Corvaia and you can stroll along the famous Corso Umberto. On the main "piazza" you will have the most beautiful panoramic view over the Sicilian coastline.
After all these unforgettable impressions we will return to your accommodation.
Including experienced English speaking guide

Including equipment like trekking poles, helmet and flashlight

Including typical Sicilian lunch

Including free walking time in Taormina (unguided)

Including Pickup service: In the area around Taormina and Catania the pick-up and drop-off at your hotel, campsite, pension, holiday cottage, railway station, port, etc. are included. Possibility to meet us at the highway exit (in case you travel with your own car).
The tour is easy and suitable for everyone.

Children under 12 years pay EUR 10.00 less. Upon request we can provide a child safety seat or booster seat (free)

Meal: Sicilian specialities will be served: Typical Sicilian appetizer, Main course Pasta, dessert, Water, bread, wine and coffee. If you have any food requests like a vegetarian meal or health problems (allergies etc), please let us know in advance

Trekking shoes can be rented on request for EUR 5.00/pair

Wind jacket can be purchased on request for EUR 20.00/piece

Your gift voucher: Place your order by phone or email ([email protected]) to get a gift voucher

Availability: We are open all year, except: 25.12 and 01.01
Pickup/drop off at your accommodation:
Pickup/drop off at meeting point:
09:30 18:00
Prices & Booking
No hidden fees - All inclusive
Free cancellation

up to 24 hours before activity starts
Etna and Taormina Tour
Duration:
9 hours
Difficulty:
Easy
€ 98
per person
€ 115
per person
English-speaking guide
Including typical Sicilian lunch
Book Now
Credit Card online
PayPal
Wire transfer
On request, with a supplement, it is possible to request pick-up service also outside of Catania / Taormina, for example: Syracuse, Noto, Messina, etc. Contact us for more information
Frequently Asked Questions
Are there any additional costs?
Absolutely not! We only offer "all inclusive" trips. There are no nasty surprises during the tour; no hidden costs or entrance fees which have to be paid separately, for the listed program.
What clothing is recommended for this tour?
Recommended clothing varies depending on the season:

From November to March
We recommend a winter jacket, long trousers, a warm hat and sturdy waterproof shoes.

From April to May
Weather and temperatures can be very different, so we recommend layered winter clothing and trainers.

From June to September
The weather and temperatures are pleasant, we recommend a T-shirt, trousers or shorts, sneakers. (In any case, it is recommended to have a light jacket with you in case of wind)

October
Weather and temperatures are very different, so we recommend multi-layered winter clothing and trainers.

What happens in case of bad weather?
Weather conditions are monitored daily and in the event of a thunderstorm you will be contacted to cancel or postpone the tour. In case of cancellation or impossible postponement, we will refund (if the tour has been paid in advance).
How can I cancel my booking?
It is possible to cancel the booking through our APP, through the booking section of the website or by email. Cancellations by phone or SMS / WhatsApp are not possible.
Last Booking 2 hours ago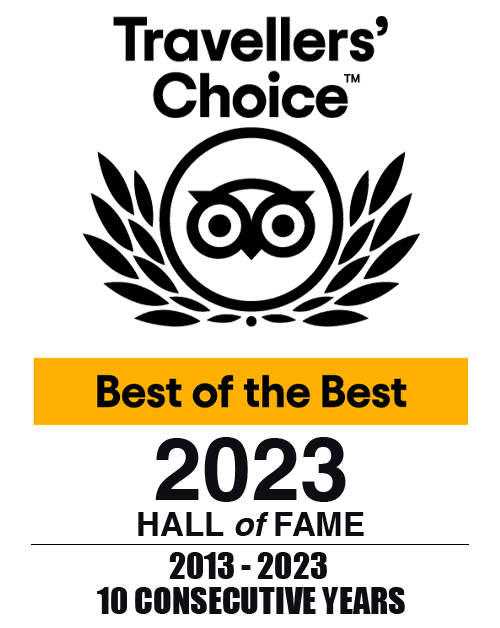 4.8 out of 5
More information?
Werner



+39 366 35 92 490
Claudia



+39 351 34 86 611

We speak English, German, French, Spanish and Italian
(Monday - Sunday / 7:30 to 21:00)
Booking Office
Opening hours: Monday - Friday
09:00 - 13:00 / 14:00 - 18:00

E-mail:
[email protected]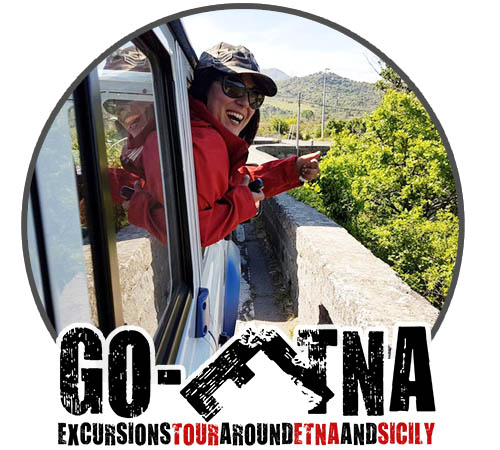 Meet the Team
about us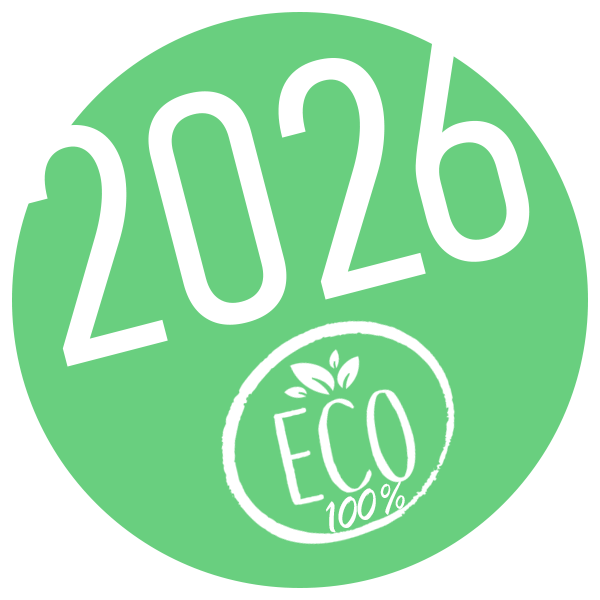 Go-Etna is becoming CO₂-neutral.
Our promise 2026: We make your tour experience 100% sustainable