Hello, how can we help you today?
Booking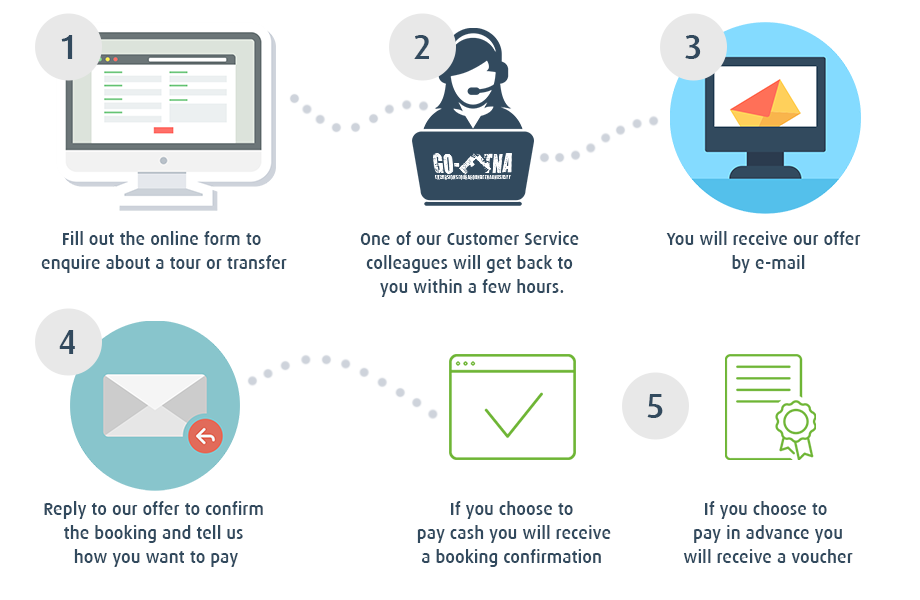 The fastest way to make a reservation request is through the booking form. It is also possible to book by e-mail ([email protected]), contact form, or directly at our booking point in Catania
Go-Etna Booking Point Catania
Via Vittorio Emanuele II 229, Catania https://goo.gl/maps/2eVPsbscxZH2
+390958998743
+393463030429
+393663592490
+393313850888
Booking information
If you have booked a pick-up service at the hotel / address and the pick-up time has not been communicated during your booking, you will receive at least the evening before the tour, a SMS to your mobile phone number and an automatic email with the exact pickup time.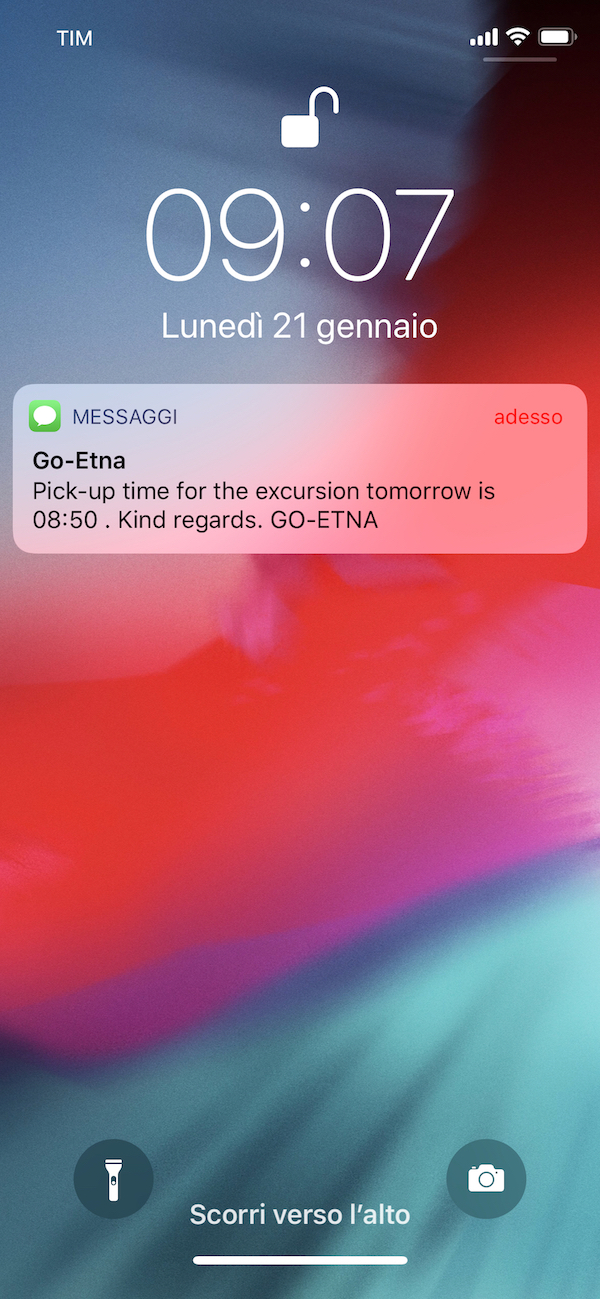 Payment and refunds
We offer different payment methods:
Bank Transfer in advance: Please make the payment no later than 7 days before excursion, so that the amount arrives in time to our bank account.
Credit card in advance

Cash to the driver*
N.B .: Cash payment is only possible for the 4×4 ETNA excursion. For reservations with pick-up at our "Giarre" meeting point or for bookings of more than 4 passengers, cash payment is not available.
Absolutely yes, the payments are managed by BANCA SELLA S.p.A. offering a secure payment platform with security protocols verified by Visa or the MasterCard SecureCode
Meeting point and pickup
Meeting point (Free Parking): At the petrol station GPL, Via Stabilimenti, 95010 Santa Venerina
Motorway Catania-Messina – motorway exit GIARRE – at the roundabout to the right, after approx. 1,5 km on the right hand side
Pickup time: Generally at 09:30 am, it can change according to the tour.
Link Google Maps:
https://goo.gl/maps/kjR5bE4Po1P2
Etna Excursions from Palermo
Most of our customers who stay in Palermo use the BUS SAIS service.
http://www.saisautolinee.it/
Departure: Piazza Cairoli, PALERMO (near railway station) Arrival: Via D'Amico, 181, Catania (near railway station).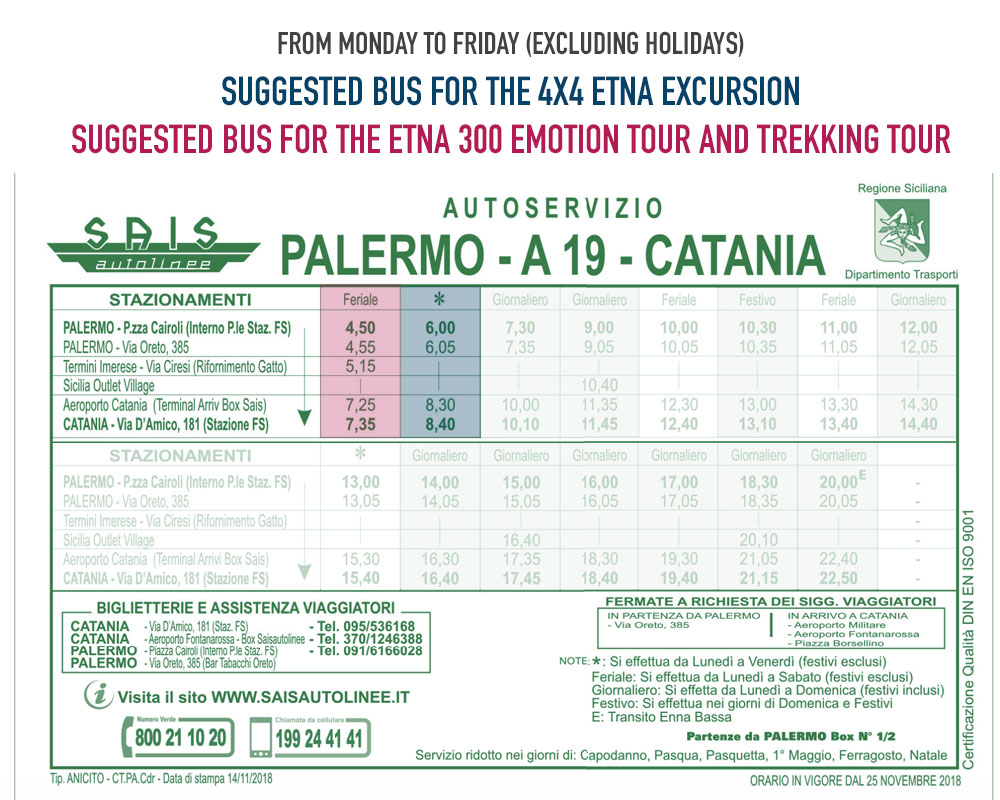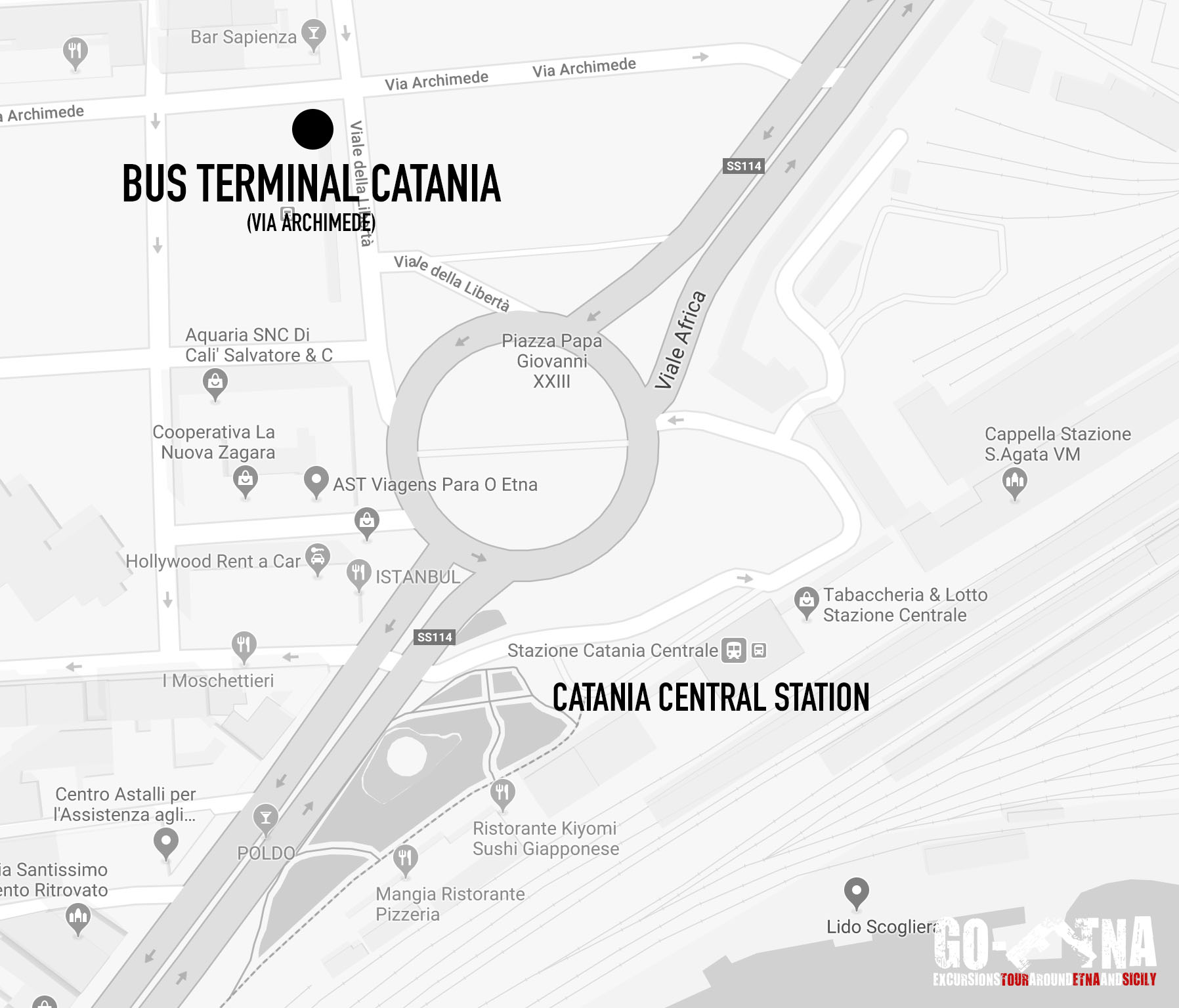 Times are subject to change, please check on the SAIS website before leaving
How do I get from Palermo to Catania to attend an Etna tour? 0 0
Cancellation
You can easily cancel a reservation by contacting us promptly by e-mail ([email protected])
If the cancellation was made within the deadline without penalty we will refund the full amount on your credit card or refund by bank transfer.
In the case of payment by credit card:
You do not need to do anything, you will find the full amount directly on your statement within a few days
In the case of payment by bank transfer:
Send us your bank account details via email, IBAN and BICSWIFT
N.B .: Cancellations by phone or via SMS / Whatsapp will not be accepted
I have cancelled the booking timely, how do I receive the refund? 0 0
Contact us immediately by e-mail ([email protected])
Costs: If the cancellation occurs within the terms indicated in the confirmation email or on our website it will not be necessary to pay anything and for pre-paid reservations a full refund will be made. In case of late cancellation there will be no refund.
Still need help?
Go-Etna – Booking Point Catania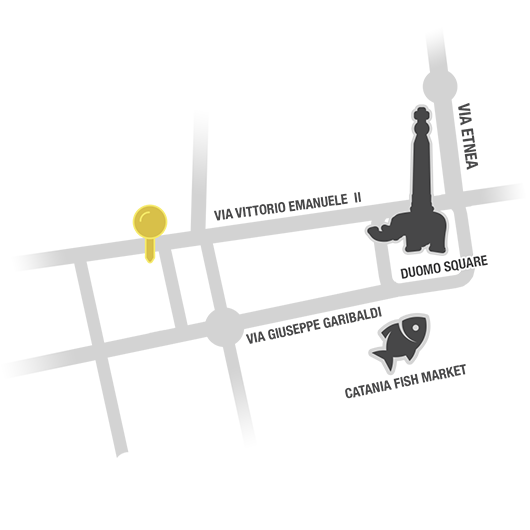 Travel agency, Excursions, Tours
Via Vittorio Emanuele II 229
95124 Catania (CT)
Tel. +39 0958998743
Monday – Friday 09:00 – 13:00 / 15:00 – 19:00
Saturday 09:00 – 13:00

Autorizzazione Regione Sicilia
Assessorato turismo, sport e spettacolo
Licenza D.D.S. n° 659/S7

Good to know:
All tours are carried out directly by our company.