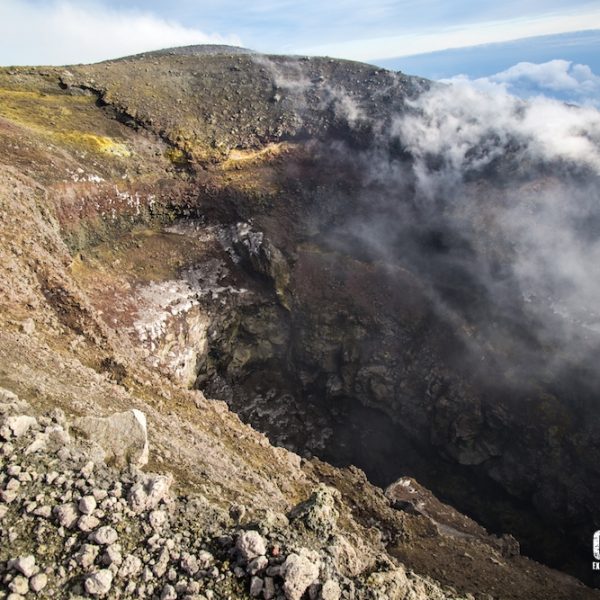 Etna trekking on the summit, 3340m
Hiking on the highest point possible
Etna summit craters – trekking route:
Ascent with the cable car and Unimog buses to 3000m, then walking up to the summit craters on 3340m. After the walk on the crater rim , descent also by foot to 3000 meters
Then with Unimog – buses and cable car to 2000 meters .
The tour ends with a visit of a real lava cave at 1400 meters (Driving by car), equipped with helmets and flashlights we discover how an outbreak forms those caves and we'll find ourselves actually inside Mount Etna.
The most spectacular trekking itinerary on Mount Etna is trek on the summit craters.
The Etna is one of the most favourite destinations for hikers.
Our trip to the summit crater is the "top" of the Etna Trekking .
The beauty of this spectacular scenery takes your breath away and leaves a unique impression.
Recommended Equipment: UV3 sunglasses, trekking shoes, mouth protection against vapours, anti – wind / rain jacket, hat , sunscreen, trekking poles, 3-layer clothing ( the temperature on the Etna can fluctuate greatly , water and snacks
Warnings: Minimum age for participation in Trekking Etna 3340 is 14 years.
The trip to the territory of the summit crater is dangerous (Etna is an active volcano), for people with heart disease and asthma , the ascent is prohibited.
The hike requires a good health condition, you have to able to hike on difficult terrain for 6 hours without physical problems , such as . Joint and ligaments problems or dizziness (walk on the edge of a hot crater) .
The walking routes are subject to weather conditions and the geodynamic activity of the volcano.
You understand that you are on an active and dangerous volcano at a high altitude , the hike is difficult and takes place on dangerous, unstable lava terrain.
The Etna is also a mountain where in addition to its possible eruptive activity there is a risk of severe cold, storms, lightning and fog.
Info
We offer this tour from 1st May – 30th September

Etna trekking on the summit craters, 3340 m
Type: Ring (the start and end point is the same)
Start / stages: Rifugio Sapienza – 2002 Crater – viewing point over the Bove valley- summit craters- return
Walking time: approx. 6-7 hours
Height: 2000 to 2500 meters by cable car, 2500-3000m with unimog vehicle and trekking until 3340m
Altitude difference: +400m, -900m, approx. 11 km trekking
Difficulty: high
Minimum of participants: 6 people
Pickup: at your accommodation in Catania
In case of pickup in Taormina: price on request
Minimum age 16 years (accompanied by parents)
Give this as a gift

Gift this tour!


After purchasing the tour you will receive a gift certificate that can be used within 12 months

We are open all year, except: 25.12 and 01.01
(min. 2 people) per person
(min. 3 people) per person
(min. 4 people) per person
(min. 5 people) per person
(min. 6 people) per person
Groups with more than 6 people on request
If the tour cannot be operated up to the top due to bad weather conditions or volcanological reasons, the trip will go only up to 2900 m. This can only be estimated on the day of the tour.
Duration: 8 hours
The price includes EURO 65,00 / person cost of cable car and Unimog
Prices are inclusive of taxes and insurance
FREE Cancellation until 3pm three days prior to the tour