Explore the beautiful coastline of Eastern Sicily by Sailing Boat
In the morning around 10:00 am we set off from the port of Riposto with the sailing ship towards Taormina. Along the enchanting landscape and the soft hills of the eastern Sicilian coast with a view on the picturesque town of Taormina, we will reach "Isola Bella" (in English: beautiful island), which lives up to its name. Like a treasure island it is situated below Taormina. We will explore the bay, including the imposant "Grotta Azzurra" (blue grotto).
As an alternative route we also offer the Riviera dei Ciclopi coastline. Sailing along the lava coast in direction of Acicastello and Acitrezza.
Acitrezza, a small fishing village is a popular destination, due to its protruding rock formations in the sea and its sparkling water. The place has also become famous because of the film "La terra trema", which is based on the novel "Malavoglia" by Giovanni Verga.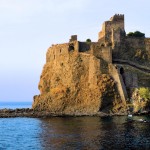 Over the sea of Acicastello the castle of the village sticks out imposingly. It was built in 1076 by the Normans, and resembles a ship, if you look at it closely.
On board of the ship an experienced skipper will introduce you to the art of sailing and you will learn how to steer the boat by hand.
During a light snack of typical Sicilian antipasti with fresh local products and soft drinks of all kinds, wine and water, you can take a sun bathing and relax on deck or jump into the cool water.
In the late afternoon we'll head back to the port of Riposto.
Meeting point: Port of Riposto
Continuous presence of 2 professional skippers on board from the beginning to end of the tour
Sicilian antipasti buffet
Incl.Welcome-Prosecco, soft drinks (Coke, Sprite, orange juice etc.), water and wine
A boat can accommodate up to 8 people
Duration of the excursion is from 10:00am to approx. 18:00pm
Give this as a gift

Gift this tour!


After purchasing the tour you will receive a gift certificate that can be used within 12 months

We are open all year, except: 25.12 and 01.01
Private Sailing tour Riviera dei Ciclopi
Duration: 8 hours
Prices are inclusive of taxes and insurance
(approx 9 am – 6 pm)
inquiry / booking
click here
On request we offer a transfer from the area of Catania, Taormina and Syracuse to the port of Catania
On request, the ship can also be booked for several days with overnight-stay on board
Optional Fishing Tour
Payment Options

In advance
by Bank transfer

In advance by
Credit card
Good to know:
All tours are carried out directly by our company.