Visit the capital of Sicily – Palermo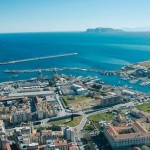 Today you will explore the capital of Sicily: Palermo.
Palermo was founded by the Phoenicians in the 8th century b.c. and with its approx. 800.000 inhabitants today it has become the fifth biggest city in Italy.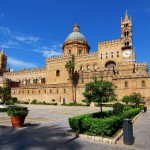 The first stop of your trip will be Monreale, a little village 7 km away from Palermo. In Monreale you will see where the Arab-Norman art and architecture reached the pinnacle of its glory with the Dome Santa Maria, launched in 1174 by William II. A huge golden mosaic cycle illustrates the scenes from the Old and New Testament. Also astonishing is the former Benedictine cloister.
Afterwards we'll head back to Palermo, where we will visit the cathedral and the old city centre. The central square of the old city at the crossways of the streets Corso Vittorio Emanuele and Via Maqueda is called Quattro Canti (four corners). The baroque palaces in the square with its dished cladding are decoratet with statues, that represent the four seasons, the Spanish kings of Palermo and the patron saint of the old quarters.
Palermo's most significant church building is the catherdral. Today's construction was built in 1184/1185 and experienced several reconstructions over the centuries. Particularly distinctive was the reconstruction at the end of the 18th century, when the cathedral received a baroque dome and when the interior was remodeled in the neo-classical style.
At the end of the tour you will have free walk and the possibility to explore the old city with its typical market.
Pick up at the exit of the port (about 3 minutes walk from the cruise ship pier, see port map an directions below). We will wait for you at the stated time. You will recognise us by our nametag
Time for pick up and return depend on the schedule of the ship, which will be reported in our confirmation
During the tour an English-speaking tour guide will explain you the most interesting aspects of Palermo and Monreale
Tours are easy and accessible to everyone.
On request we can provide child safety seat or booster seat (free)
We recommend adequate clothes according to the weather, a bottle of water and DO NOT FORGET YOUR CAMERA, of course!
Children under 12 years pay 10 euro less.
Shore Palermo excursions for cruise ship passengers
Euro 79,00 per person from port Palermo
Prices are inclusive of taxes and insurance
FREE Cancellation until 3pm one day before the tour
Payment Options

In advance
by Bank transfer

In advance by
Credit card
On request we also offer "private" trips. Vehicle and travel companion are exclusively available for you.
You arrive at the port of Messina
Good to know:
All tours are carried out directly by our company.