TAGS:
active volcano, Destructive Power, Eruptions, Etna, Facts & Mythos, Frequent Eruptions, mount etna
Mount Etna is the one of the most popular tourist areas in Sicily, and it can be either hiked or driven up using suitable vehicles, and it is also a leading site of volcanic research.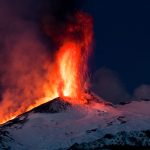 Mount Etna is also known as Mongibello which means "mountain-mountain". The ancient Romans believed that Vulcan–the god of fire and metalworking–had his forge beneath Mount Etna and that this was the cause of its eruptions. The word "volcano" originates from his name.
The famous active volcano is surrounded by numerous communities, that, in the event of an eruption, are generally protected from lava flow using diversion tactics that include deposits, explosives and holes. Let´s find out 5 most interesting curiosities about Mount Etna
Author:
Posted on:
2017/11/07
Updated:
2018/07/13
Read more