Categories:
Sicily
Author:
Posted on:
2016/02/11
Updated:
2017/03/15
… like spring in your nose …

A mixture of freshly cut grass, crispy artichokes and aromatic herbs jumps right towards you. The oil of Mount Etna olives is considered as valuable as gold in Sicily. Its intense aroma and taste make it an essential ingredient for the locals, that cannot be lacking in their cuisine.
The volcanic rich soil and the altitude of the growing area (approx. 400-900m above sea level) on the eastern slopes of Etna ensure perfect conditions and contribute to the unique, intense flavour of the oil.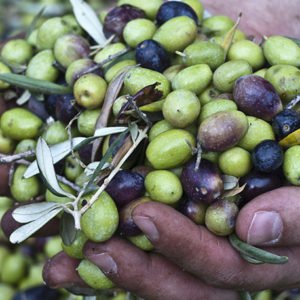 The harvest of the fruit takes place in October, when the olive is fully matured. An indicator of the degree of ripeness is the colour, when it changes from green to black they are ready.
After the cold pressing process, the oil is carefully bottled in dark bottles, which protect the precious liquid from the sunlight. Also, the oil should be stored in a dry, dark and cool place, because otherwise the taste can vary greatly. With this green liquid gold delicious dishes can be created easily. Perfectly suitable for the cold light cuisine – salads, cheese, Caprese – it also goes well with fish dishes, grilled vegetables and legumes.
During an olive oil tasting, you can experience the full-bodied and balanced taste. Green freshness with a touch of a spicy bitter note in the end. Please feel free to have a look at our Etna & Wine tours, on which, in addition to highest quality Etna DOC wines, there are also served different olive oils.
On top of all the oil has even got health-promoting aspects, this miracle elixir is known to prevent heart attacks. No wonder, that this delicious aromatic oil, with its unique green fragrance is so popular with the locals and with the visitors of this island.
TAGS:
Catania, Etna, olive oil, olive oil extravergine, Sicilian olive oil, sicily